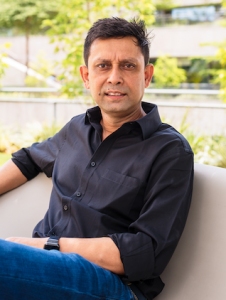 In Conversation with Saumen Bhaumik, CEO Eyewear Division, Titan Co. Ltd.
Previously as Chief Sales & Retail Officer of Watches & Accessories Division, Saumen led the turnaround of the business through transformation of Trade, Fastrack Stores, Helios, Large Format, Ecom Channels and licensed brands. Prior to that, he was the Head of Retail at Tanishq, during which the brand recorded a 10x growth (between 2005 and 2012).
In conversation with Anant on a variety of subjects centered around recreating value during the Great Reset and the importance of building new behaviors in Sales teams.
Anant: You've had a wealth of experience with sales teams across business cycles. How, according to you, has managing teams changed and in what way has it remained the same?
Saumen: Sales, and even production for that matter, are goal driven with daily or weekly targets. That number or goal orientation is the one thing in this changing world that hasn't really changed.
And as long as there is a definite goal, it's easier to align people. If you can define your goal – sales or any other, you know what is the expected outcome, and that is the starting point of team alignment. What does influence the outcome though, is how you manage this alignment.
If teams are aligned, there is a sense of effortlessness – when you don't feel the fatigue of a long day because you are moving forward, progressing. It's like properly aligned gears – noiseless and smooth.
Goals can also become a mission – when you/ your team know the Why behind the goal. "there is a purpose behind the number." That is when one seems to do more than just selling the 100th equipment (say a ventilator). It becomes about the 100th potential life saved. That's when there is alignment to the larger purpose of the business.
Alignment and goal orientation is the biggest fuel for the purpose, the mission.
What has changed now is the platform – earlier we were used to physical sales, now we're selling quite differently. For Trade sales, travel was a must. Dealers who'd refuse to engage digitally are now quite inclined to do so, thanks to Covid.
Two examples of how we are adding value to our channel partners now…
One – We've spent the last few months helping retail partners (franchisees) to take the digital plunge by assisted order delivery (what we call assisted ecommerce).
Two – Health and safety have become our #1 priority. We have established a robust safety protocol for all Eyeplus and other format stores. Earlier an EyePlus Area Manager (AM) would check compliance through a physical visit, today it is happening through a virtual walk through. And we've found it as effective and an AM is able to cover many more stores in a day compared to the past. Likewise grooming standards for staff etc.
A: This almost sounds like new behaviors that you're pushing your sales network to adopt.  From that perspective, has your definition of a productive Sales Rep changed now? Do you see some of your team taking up new behaviors better than expected?
S: We have an AM, particularly whom I remember, an average Area Manager but the moment we moved from the physical world to the hybrid world, he started topping the charts, in terms of assisted e-com orders from his outlets. We know there is an environment for everybody to flourish and for him it turned out to be Covid!
So in changed scenarios you'll see new traits that are more relevant and some who are more successful at it – and were just waiting for the right time. 
Earlier good practices (behaviors) weren't easy to replicate. Teams would first need to accept someone else's success story before they even think of learning from them.
Today the need is so overpowering, that the idea becomes the focus not whom the idea came from.
Recently at our internal Kaizen mela (conducted online) cross pollination of ideas was so much easier because everyone was looking for ideas to learn from.
A: Shifting focus to data and the need for it. Sales teams have tons of data available. How has the need to look at data changed for Sales reps and their managers? 
S: Data analytics help you know where you stand in the journey and also to learn from the past. But there has been a bit of an overdose of it. In fact, I'd say that a lot of data is noise. Not every information makes life better for a sales rep. More often than not, more data confuses.
In the last many years, I've found that people who pick up 3 or 4 important tasks, at the exclusion of a laundry list of others, they do well consistently. They have figured out the art of prioritization.  [Editor's note: Similarity with another CPG company that used this idea to boost their sales productivity here]
In a nutshell – with data it's easy to get lost, my suggestion is pick the top 3-4 key things (using data analysis) and work with them. If this is done to scale, leaders will create better alignment in teams and consequently make a greater impact.
A: You've talked about habits & their link to productivity and also everyone being forced to adapt to new ways of working.Given the on-today-off-tomorrow kind of market conditions, any specific habits you'd like to see consistently in your team?
S: One – Authenticity. We pride ourselves on being a customer-centric organization. But today customer centricity as a term is changing with needs and priorities getting a new definition in people's eyes. Now, the less pretentious we are, the better we'll connect with our customers. While we have to endure this global disruption, the silver lining is that we could use it as an opportunity to reset many things, drop things that we must. Customers will appreciate and welcome true value, we must strive to deliver that.
Two – Speed.
We need to quickly align ourselves with the new reality.
It is here and now. If there is an unfulfilled or new requirement, we must act fast and deliver. India's PPE production from zero to 200k a day is a great example (quoted by PM Modi). Likewise, the speed with which we adapted to the digital sales process, video selling for  categories like spectacles, high value jewelry are some relevant examples.
A: How do you look to create alignment today? Without face to face interactions how do you see teams remaining connected digitally? 
S: SMS and WhatsApp already had us in the zone of staying connected, commenting and working as a group etc.
Virtualization of sales life had happened to a certain extent. 
Covid forced us to do what we're doing right now. We've never spoken like this before. And in life, paradigm shifts don't happen slowly but overnight. Covid-19 brought a huge shift in the last 2-3 months and WFH is now part of our routine. Emotions are experienced through the screen and selling always has an element of emotion.
A:  I remember your comment about managers being aggregators and the role being that of helping his team to deliver consistently. How do you see role of managers changing?
S: Today all of us are trying to deal with a new situation. Managers are equally at sea irrespective of how experienced they are. Managers who are and will be successful need to look for newer ways to manage their teams. Earlier managers would look only for one way of managing their teams. Now they need to find a multi-dimensional approach.
A: Anything you'd like to conclude with?
S: Someday this too will pass. We need to remain optimistic and not allow the fear to overwhelm us. It seems like the world around us is getting reset. But maybe this was the reset button we needed for the Planet and humanity.
As long as our focus remains on the customers and we invest our time and energy on the key priorities to bring in true value, we will do well. 
To me this is a great time to be alive. Somehow through all this fear and anxiety, I see a great opportunity for us (India) to come up on top.
The overriding motivation is not just to our business/ jobs, but our contribution to something greater. Like the famous story of JFK's meeting with a janitor at NASA who said I'm contributing to sending a man to the moon.
Image credits: Laura Ockel on Unsplash