One of the key traits of successful sales professionals is their ability to keep learning. What worked even a few years ago, may not be successful today. Fortunately, over the past 10 years, and more so now, sales leaders and top 1% sellers have taken to podcasting to share their extensive knowledge on what is working in sales today. Staying updated with the latest tips and insights from sales leaders has never been easier with many sales podcasts out there. [Alternatively, you can also check out our list of best podcasts for sales leaders to follow]
Over the past decade, podcast adoption has been steadily growing, with a steep increase during the pandemic. Experts surmise that 2022 is going to see listeners grow to 125 million. Several podcasts are also available in video formats for people who struggle to focus when they're listening to audio only. If you haven't started already, now's the time to make best use of the content out there and grow your sales career. 
We've put together a short list of 10 of the best sales podcasts out there for sales professionals who are short on time but eager to learn. The list includes a diverse set of voices talking that cater to beginners struggling with the basic sales jargon as well as experienced sellers looking for advanced strategies to improve their performance. 
From getting your foot in the door, to creating the perfect sales script, to body language psychology and tips from neuroscientists, these sales podcasts are sure to build your sales career and help you grow. 
So without further delay, here they are.
10 Best Podcasts for Sales Reps
1. Daily Sales Tips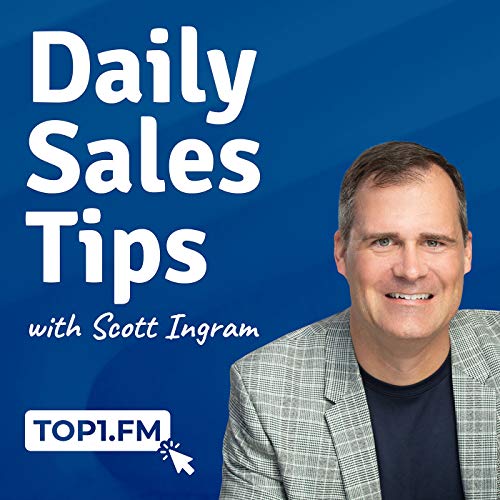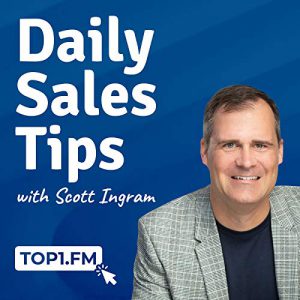 Where to listen: Apple Podcasts Spotify Google podcasts Stitcher
Host: Scott Ingram
Episode Length: 5-10 mins, usually under 6 mins
This sales podcast features bite-sized sales tips, with new episodes released 7 days a week. These actionable and practical tips are anywhere from 3-6 minutes long and is the perfect podcast to get your day off to a great start.
Host of the wildly popular Sales Success Stories, Scott Ingram is a top 1% seller and has two decades of experience in sales. In this podcast, Scott covers how sales reps can create more opportunities, build more connections, new age of prospecting or how to come back from failure.
The Daily Sales Tips podcast is on its 1279th episode as of the writing of this blog. Plenty to binge listen on, if you get hooked on. Also try Sales Success Stories, a longer format podcast hosted by Scott Ingram featuring world class sales practitioners, sales leaders and top 1% sellers talk about what it takes to succeed in sales today.
2. Conversations with Women in Sales
Where to listen: Apple podcasts Spotify Stitcher Libsyn
Host: Lori Richardson
Episode Length: 20-40 mins
Each episode of this award-winning sales podcast features women in sales who are doing exceptional work, male allies or related conversations. While designed to be the definitive resource for women in sales, this podcast will benefit male sales professionals too. Topics range from leadership, career management, dealing with imposter syndrome, overcoming adversity, sales and marketing alignment, B2B sales, strategic partnerships, building confidence, content creation and promotion, social media, building inclusive sales teams etc.
Host Lori Richardson is a top sales influencer with over 30 years of experience in B2B selling and leading sales teams and writes for the Women Sales Pros Blog.
3. Sell or Die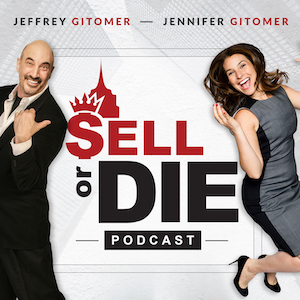 Where to listen: Apple Podcasts Spotify
Host: Jeffrey and Jennifer Gitomer
Episode Length: 10-30 mins
Popularity: 3 million downloads in July 2022
Sell or Die is a great resource for sales professionals and sales leaders looking to build their selling skills and technique. Each episode gives real-world, easy-to-implement solutions that will help you get your calls returned, proposals read and acted on while creating relationships that bring in more revenue. This popular podcasts has now reached 3 million downloads.
Jeffrey Gitomer is the author of 16 best-selling books including the Little Red Book of Selling, the Sales Bible, and his newest book Get Sh*t Done. In 2008, he was inducted in the Speakers Hall of Fame – the highest award in the speaking industry. His world-class list of clients include companies from  Fortune 500 companies around the world. Jen Gitomer is an award-winning sales leader for a Fortune 500 company. She is the best-selling Author of Sales in a New York Minute, CEO and Founder of Breakthrough Business Babe and a master business growth coach.
4. Sales Hacker Podcast with Sam Jacobs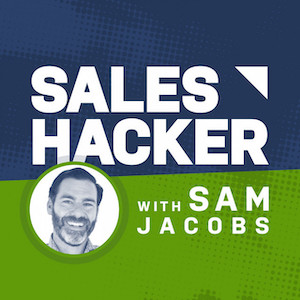 Where to listen: Apple podcasts Spotify Google Podcasts Stitcher Audible
Host: Sam Jacobs
Episode Length: under 30 mins (except for Friday Fundamentals which are short 5 min talks with practical insights)
Popularity: 40,000 downloads per month
This wildly popular sales podcast is an extension of the Sales Hacker Community built to cater specifically to sales professionals and sales leaders. Hosted by Sam Jacobs, the podcast offers insights and tips through interviews from thought leaders and practitioners in the field of sales marketing. Topics include lead generation, social selling, sales management, account-based selling best practices, sales process, sales psychology, customer success, sales technology, B2B sales and marketing alignment, and more. 
Host Sam Jacobs is the Founder of Pavilion, the leading global community for customer-facing executives, with more than 5,000 members around the world. Sam has 15 years of experience leading go-to-market teams in the greater New York City area. He's served as Chief Revenue Officer of Behavox and The Muse, Senior Vice President of Sales and Marketing for Livestream, Senior Vice President of Sales and Business Development at Axial, and Managing Director at Gerson Lehrman Group.
5. Advanced Selling Podcast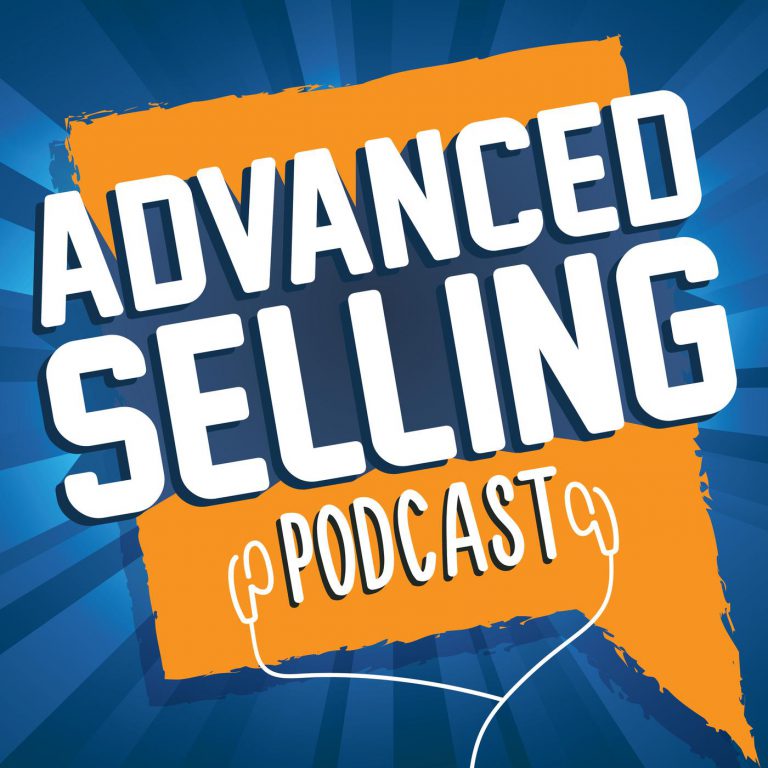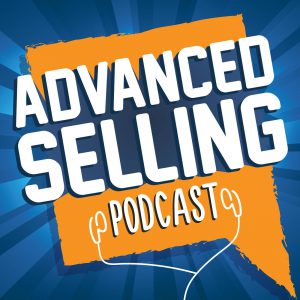 Where to listen: Apple podcasts Spotify Website 
Host: Bill Caskey and Bryan Neale
Episode Length: 10-30 mins
Popularity: 14 million downloads
Running for the past 16 years, the Advanced Selling Podcast is one of the longest running shows in podcast history. Each episode is designed to help sales professionals succeed. If you're overwhelmed looking at their impressive list of over 700 episodes, their website recommends 10 episodes new listeners should begin with. Bill and Bryan's strategies, frameworks, tips and tricks will help you leverage your talent, grow your skills and create your own sales success. Topics covered include prospecting, sales communication, buyer resistance, proposals and RFPs, pricing, cold calling, sales forecasting, pain points, psychology, positioning, deal coaching, goal setting, leading and managing, achieving your goals and all the other things that work (and don't work) in the world of sales.
Bill Caskey and Bryan Neale have been B2B sales trainers for the past twenty years. Bill is a Professional speaker, Trainer, Coach and Author. Bryan is an NFL referee, trainer, coach and loves training teams about the similarities between sales and football.
6. The Other Side of Sales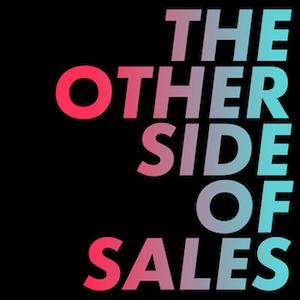 Where to listen: Apple Podcasts Spotify Stitcher YouTube
Host: Ashleigh Early
Episode Length: 40-60 mins
This podcast is meant for all those sales people who don't fit the "white+male" mould in the industry. Hear from a diverse set of voices on how they broke into sales and how they have succeeded. The show highlights the expertise of underrepresented sales professionals – helping evolve the dominant sales culture into one that celebrates differences and empowers everyone to thrive.
Host and founder of The Other Side of Sales Ashleigh Early is a passionate advocate, salesperson and sales trainer. Her training includes evaluating strategies while building empathy and listening skills. The show is co-hosted by a unique set of experienced voices like Sue Singh, Francisco Oller Garcia, Ryan Woodard and Sunanda Nair all of whom have a deep background in Sales Marketing.
7. Sales Babble
Where to listen: Google Podcasts Apple Podcasts Spotify
Host: Pat Helmers
Episode Length: 30 mins
Popularity: 6000+ downloads each month and rated a top 10 sales podcast on iTunes.
The sales podcast is aimed at non-sellers. Cutting through all the sales jargon and bad advice, host Pat shows you how anyone who truly wants to serve a client can become sucessful at sales. Pat refutes the age old idea that sales professionals need to be pushy to succeed. Tune in for practical and actionable advice you can immediately apply brought to you in a fun and entertaining format. 
Pat Helmers, a software engineer, moved into business development for software startups, ending up as the Vice President of Sales for an enterprise SaaS start-up, building from scratch an inside and outside sales team that generated 8 figure revenues.
8. Make it Happen Mondays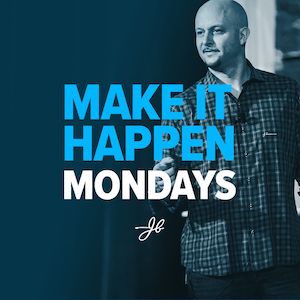 Where to listen: Apple Podcasts Spotify Stitcher YouTube
Host: John Barrows
Episode Length: Approx 1 hour
This podcast brings you actionable sales tips that help you grow close more business. The show interviews sales and industry leaders. Host Barrows celebrated hitting 1 million downloads by running the top 5 episodes. Check out #2 on the list – The art of closing a deal.
Host John Barrows is on a mission to help elevate the profession of sales so kids begin to say "I want to be in sales when I grow up." Barrows is a leading B2B sales trainer and the founder of JBarrows Consulting – with an impressive client list that includes Salesforce, LinkedIn, and Okta. Barrows has over 25 years of experience in sales, from making 400 dials in a week to being a VP of Sales, he's done it all and brings all this experience and a great lineup of guests in this podcast.
9. The Sales Evangelist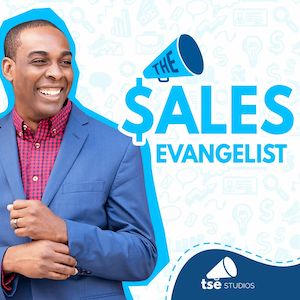 Where to listen: Apple Podcasts Spotify Google Podcast Stitcher YouTube
Host: Donald Kelly
Episode Length: 15-30 mins
Host Donald Kelly believes all sellers should be able to get a 6-figure income but don't, because they aren't taught to sell. Kelly wants to change all that through this sales podcast that boasts of listeners from across 158 countries. He interviews the world's best sales experts, successful sellers, sales leaders and entrepreneurs who share their strategies to succeed in sales right now including the likes of Jeffrey Gitomer, Jill Konrath, Bob Burg, and Guy Kawasaki etc. Get ready for actionable insights and stories that will encourage, challenge, and motivate you to hustle your way to top income status. 
Donald Kelly himself had a rough start in sales till one company sent him on a sales training that turned his selling around. He immediately closed a sales 4x what the company spend on training him and never looked back. Today Kelly is the Founder and The Chief Sales Evangelist at TSE.
10. The Art of Charm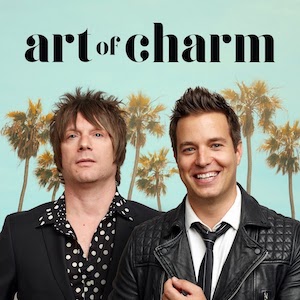 Where to listen: Apple Podcasts Spotify Google Podcasts
Hosts: Johnny and AJ
Episode Length: Approx 1 hour
Popularity: 2.5 million monthly downloads
Not one of the typical sales podcasts, this is a podcast that helps you improve your performance in all spheres of life and work by mastering human dynamics and relationships. The art of charm has over 800 episodes that deal with the various aspects of connecting with people and building influence. From negotiation tactics, to various aspects of emotional intelligence, to a five step way to strike a conversation with a stranger, this podcast has a bunch of insights that is guaranteed to help you build you network and master the art of getting through to your customer. Podcast excerpts (and body language tips) are also published on their Youtube channel. The show features all-time favourites like the late Kobe Bryant, Jay Shetty, Tim, Ferriss, Charles Duhigg.
The hosts Johnny and AJ's passion for personal coaching and helping people achieve their best started while they were in very different professions – Johnny was a scientist doing cancer research while AJ was in a rock and roll band. Today the duo have coached almost 10,000 people over the last 15 years.
Bonus: Modern Sales Podcast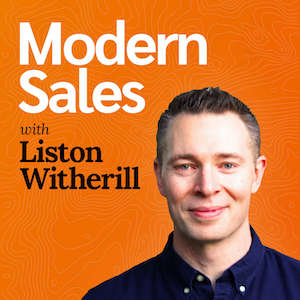 Where to listen: Apple Podcasts Spotify
Host: Liston Witherill
Episode Length: 20-40 mins
This is one of the sales podcasts that focusses on the buyer – sell more by understanding how people buy. This sales podcast steers you away from outdated  sales strategies to how you can use psychology to really understand your audience and how they buy. Get actionable advice based on psychology, behavioral economics, neuroscience, and first-hand experience behind how people buy.
Host and sales behaviorist Liston Witherill is a B2B sales consultant and trainer. The last episode recorded on the podcast is in 2021.
Get more behavioral insights on selling and buying on The Brainy Business by applied behavioral economist Melina Palmer. Sales leaders, don't miss this episode.
That brings us to a close. These 10 are just a beginning – there are hundreds of sales podcasts out there. We've just helped you make a start. Experienced sellers around you may not always have the time or the inclination to share their top tips. Now you can get to hear from the top 1% sellers whenever and wherever you want. So whether you're a beginner or a pro, becoming a better seller is now just a listen away.
Of course, it's most important that you actually and consistently practice what you learn to really see results. For more on how worxogo's Nudge Coach can help you develop habits of excellence and deliver consistent results, click for a demo.
Here's to your success!