Let's face it, your job as a sales leader is tough. From competition chipping away at your customers, Sales teams struggling to meet quotas, your analytics not giving you the data you need, and to top that off, your need to bring your A-game as a manager and leader. Add to that, the thousands of sales experts and products promising you the moon and stars, who do you trust and lean into?
We're here to solve one part of the dilemma for you. After sifting through tons of sales podcasts out there, we've identified a very unique set of voices in the area of sales marketing. These will help YOU keep up to date on the best ideas out there of interest to you. 
These 7 podcasts for sales leaders will help you bring together some of the best ideas in sales, covering topics from developing a sales pipeline, to hiring the right kind of sales reps, to the best ways to handle your most pressing challenges in sales marketing. So whether you listen in during your commute or in the gym, rest assured they will help you transform the way you lead your sales teams and get results. 
On to the list of 7 of the best sales leadership podcasts that are available online. 
7 of the Best Sales Podcasts for Sales Leaders
1. Sales Success Stories Podcast
Where to listen: Apple Podcasts, Soundcloud, Spotify
Host: Scott Ingram
Episode Length: Usually < 60 mins
Sales Success Stories is as the name suggests success stories from sales peoples in various stages of their careers and across industries with one thing in common – they are not sales experts, they actually sell and are the top 1% performers in their organizations. This sales leadership podcast features these world class sales professionals and their insights on what it takes to dominate in sales today. 
In his 2 decade long career in sales, Scott himself was a top 1% performer. Today he writes books, oragnizes sales events and hosts this very successful podcast. Scott continues to be a practitioner and is the Account Director at Relationship One.
Start with this bonus episode for five top sales tips.
2. Sales Leadership Podcast
Where to listen: Apple Podcasts, Spotify, Stitcher and Tune In
Host: Rob Jeppsen
Episode Length: Usually 60 mins or less.
Popularity: 30,000 downloads each month
Host Rob Jeppsen invites successful sales leaders to answer the burning question – How do you create predicatable, relatable and scalable success? Rob's passion is to develop "world class sales leaders so they can create world class sales teams". He believes how you lead your team is your biggest competitive advantage. One of the best sales leadership podcasts out there, each episode will leave you with practical actionable tips to drive high growth with your team.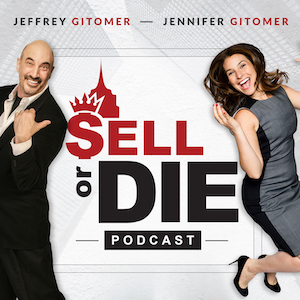 Where to listen: Apple Podcasts, Spotify
Hosts: Jeffrey and Jennifer Gitomer
Episode Length: 10-30 mins.
Popularity: Hit 3 million downloads in July 2022
Top leaders in sales, business, marketing and personal development discuss the art and science of selling in this popular podcast. Jeffrey Gitomer is the author of 16 best-selling books including the Little Red Book of Selling, the Sales Bible. Known as the King of Sales, Jeffrey's list of clients include companies from Fortune 500 companies across the globe. Jen Gitnomer is an award-winning sales leader and author of Sales in a New York Minute, CEO and Founder of Breakthrough Business Babe and a master business growth coach.
4. The Global Sales Leader Podcast
Where to listen: Apple podcasts, Spotify, Google podcasts, YouTube
Host: Jason Cooper
Episode Length: 30-50 mins
Sales relationship coach Jason Coach is on a mission to impact thousands of sales and business professionals to transform their ability to convert sales into revenue streams. The podcast features conversations with dynamic leaders to discuss Sales, Leadership, Business, Coaching and the Mind and how to bring it all together for success. Jason has 25 years of experience working with corporates in the UK and Ireland and has co-founded 2 businesses. He also hosts another podcast for leaders called Mindful Leadership.
5. Conversations with Women in Sales
Where to listen: Apple podcasts, Stitcher, Spotify, Libsyn
Host: Lori Richardson
Episode Length: 20-40 mins
Women in Sales is an award-winning podcast dedicated to being the best resource for female sales professionals. Hosted by top sales influencer and author, Lori Richardson, the show features topics like leadership, building inclusive sales teams, B2B sales, sales and marketing alignment etc. Episodes feature women in sales doing incredible work, male allies or a related topic. Each guest will share practical advice for advancing your sales career. With over 30 years of experience in B2B selling and leading sales teams, Lori Richardson is a founder and strategist at Score More Sales.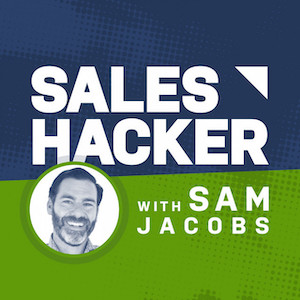 Where to listen: Apple podcasts, Spotify, Google Podcasts, Stitcher, Audible
Host: Sam Jacobs
Episode Length: under 30 mins (except for Friday Fundamentals which are short 5 min talks with actionable insights)
Popularity: 40,000 downloads per month
An extension of the Sales Hacker community for sales professionals, this is one of the best sales leadership podcasts out there. Hosted by Sam Jacobs, the show discusses lead generation, sales development, sales enablement, sales hiring, CRM, sales operations, social selling, sales management, account-based selling best practices, sales process, sales psychology, customer success, sales technology, B2B sales and marketing alignment, and more. Listen in to get acces to the latest sales tips, tactics, strategies and techniques from thoughts leaders and proactioners. Host Sam Jacobs is a leading figure in revenue development at high-growth companies across the globe and is known as a top go-to-market executive. He is the Founder of Pavilion, the leading global community for customer-facing executives, with more than 5,000 members around the world. 
Start with this episode on What Makes a Great Sales Manager by keynote speaker, sales trainer and author, Todd Caponi, with some behavioral insights.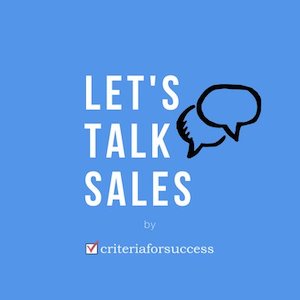 Where to listen: Apple podcasts, Stitcher, Tune In
Host: Elizabeth Frederick
Episode Length: 50-60 mins
Tagged as "the podcast for anyone interested in growing sales", this podcast explores sales leadership through interviews with sales leaders, authors and coaches. The show is meant for CEOs, Sales VPs and managers looking to build strong companies. Sales Leaders and CEOs share their secrets to sucess , coaches offer insights for personal and professional growth and authors discuss sales and business books.  This podcast is hosted by Elizabeth Frederick, the Operations Officer and Senior Advisor at Criteria for Success. 
Bonus Podcast: The Brainy Business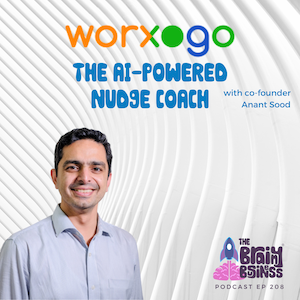 Where to listen: Apple podcasts, Google
Host: Melina Palmer
Episode Length: 50-60 mins
With half a million downloads from across 170 countries, this is one of the up and coming podcasts for sales leaders today. It brings Behavioral Economics concepts to the Business world. Host and founder of The Brain Business, Melina Palmer has authored What your Customer Wants but can't tell you and What your Employees Need but can't tell you. Melina is an applied behaviorist economist and makes the show a fun and engaging way to learn more about the brain and how behavior economics can inform the world of business. Don't miss this episode with worxogo co-founder Anant Sood on how companies across the world use behavior science and AI to drive their teams to sell more.
We do hope you enjoy our favourite podcast picks. Did we miss a podcast that you've enjoyed and learned a lot from? Drop us a note on why it should be included here.
Happy listening!