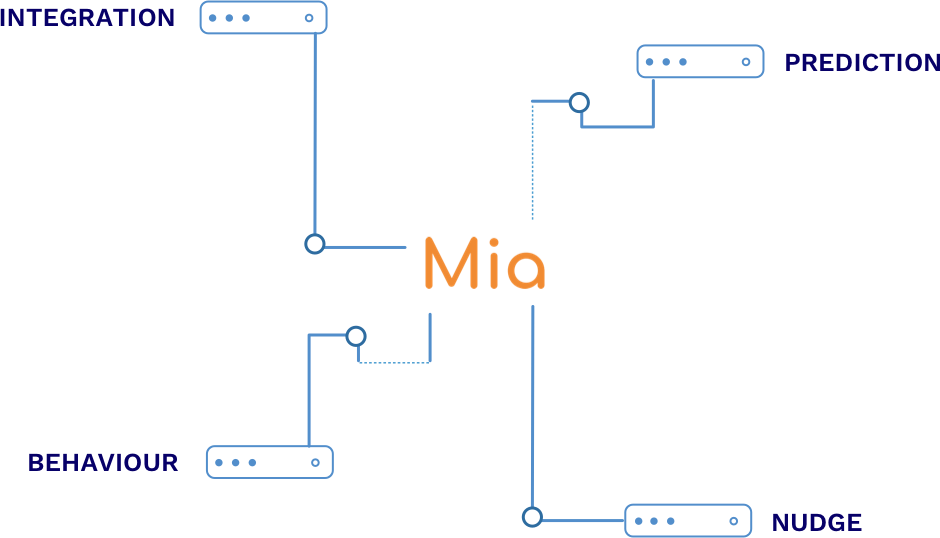 Mia is your employees' personal digital coach. It is a self-learning AI engine, that uses proprietary deep-learning algorithms to assess your employees' individual performance, personality traits and uses predictive analytics to nudge, and  improve their performance.
Mia enables employees to improve at their own pace by constantly learning and recalibrating based on real time data.
This provides Mia with a unique picture of your employee and using behaviour shaping nudges it builds sustainable improvement in performance.
Mia is built on a series of AI capabilities
Integration capability
It intelligently connects with your data
Intelligent data pipeline from any source system. Automated validations with  triggers for inconsistent or incomplete daa
Behaviour assessment
It understands what makes your employees' tick
Recognises employee's workplace behaviour preferences (intrinsic, extinsic motivations) and their responses to action triggers.
Prediction capability
It predicts your employees' performance
Uses proprietary algorithms, predictive models of employee performance & dynamically re-calibrates action triggers
Nudge capability
It guides your employees to improve performance
Aligns KPIs with behaviour preferences. Configures Performance, Game, Social & Persuasive Mechanics. Nudges employees using visual and cognitive nudges to drive actions